General Suraj Abdurrahman: Chief of the Liberian Armed Forces [2007-2014]
Major General Suraj Abdurrahman PhD (Edin) FNIA MNIM (9 September 1954 – 28 January 2015) was a distinguished Abusite, renowned architect and heroic Engineering officer of the Nigerian Army, who served as Commanding Officer in Charge of the Armed Forces of Liberia for 7yrs.
Major General Suraj Alao Abdurrahman was born on 9 September 1954 in Kaduna where he had his primary education before proceeding to government college Keffi for his secondary education. He graduated with division 1 distinction in the West Africa school certificate examination in 1972.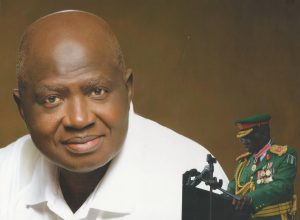 He thereafter proceeded to the School of Basic Studies of the Ahmadu Bello University Zaria, where he was until July 1973 when he was admitted into the Nigeria Defence Academy Kaduna as a member of the 14th regular Combatant Course.
In 1975, he was commissioned as a Second Lieutenant into the Nigeria Army Corps of Engineers. In the course of his Service, General Abdurrahman attended various military and civil courses.
He was an alumnus of the Nigerian Army School of Military Engineers (NASME). Nigerian Armed Forces Command and Staff College (AFCSC) as well as the National War College where he graduated with distinction.
The General returned to the prestigious Ahmadu Bello University (ABU) Zaria for his BSc: (Arch.) in 1979 and M.Sc. (Arch.) in 1981, capping it with a Ph.D. (Arch.) from the Herriot-Watt University in Edinburg (UK) In 1985.
General Abdurrahman was also an alumnus of the UK Joint Warfare Center-Southwick (UK). Additionally, he attended the Leadership in Developing countries Course at the Harvard University, Cambridge, USA and Senior Security Officer Course in the same institution in 2010.
In his quest for more knowledge, General Suraj Abdurrahman attended the senior Executive Course on Cybercrime in 2011 at the George Marshall Center, Garmisch in Germany. The General held several commands, instructor and staff appointments in the course of his career both locally and internationally.
They include General Staff Officer Grade 3 Training at the Engineer Headquarters in 1976, Staff Officer Architecture at Army Headquarters (AHQ) in 1981, He was an instructor in NASME in 1986. He commanded the 21 Support Engineer Regiment, 13 Field Engineers Regiment and later became commander of the 43 Engineer Brigade.
He served as Colonel Personnel Service in the Department of Army Administration at AHQ in 1998 and Director of Army Real Estate at the Engineer Headquarters in 2001. He also served as Military Observer with the United Nations Iraq-Kuwait Observer Mission (UNIKOM) in 1991 and as commander of 3 Division Internal Security Task Force (OP FLUSH OUT II) in 1999.
General Abdurrahman further served as a Directing Staff at the AFCSC, Ghana Armed Forces Command and Staff College and the Nigerian National Defence College. He represented Nigeria at the UN Conference on Anti-Personnel Mines Convention in Switzerland, Ethiopia, and Kenya.
General Abdurrahman was also in Namibia to represent Nigeria at the UN Small Arms and Light Weapons Conference, he also participated in the "BLUE HELMET FORUM AUSTRIA 2005" in Austria.
He was the Director of Operations in AHQ until January when he was promoted to the rank of Major General and redeployed to Defence Headquarters as the Director of Policy. In January 2006, he was appointed the Chief of Army Staff Standards and Evaluation in AHQ a position he held until June 2006 when he was appointed Chief of Training and Operations – AHQ.
In January 2007, he became the Chief of Policy and Plans for the Nigerian Army. It was from here that he was appointed the Chief of Staff, Armed Forces of Liberia (AFL). He effectively commanded the AFL from 6 June 2007 to 11 Feb 2014, when he handed over to a Liberian Officer Brigadier General Daniel D. Ziankham
General Suraj Abdurrahman was a proud recipient of the Commander of the Order of the Niger (CON) conferred on him by the Nigerian President in 2014.
He was also the recipient of the National Honour Award of "Knight Commander" in the Humane Order of African redemption by the President of Liberia in 2014, Officer of the Order of the Niger (OON) from Nigeria in 2007 and the Liberia's highest military honour, the Distinguish Service Order (DSO) from the president of Liberia in 2009.
Major General Suraj Abdurrahman's death
General Suraj Abdurrahman died in New York City while undergoing medical treatment for an undisclosed illness on 30 January 2015. He was survived by his wives Mariam Pat Abdurrahman, and Fatima Wali – Abdurrahman and his four sons, Surajudeen, Abduljabbar, Abdulaziz and Abdulmalik. His hobbies included photography, traveling golf and basketball
In a posthumous ceremony in Monrovia to honor General Abdurrahman, then-President Johnson-Sirleaf, the UNMIL Force commander, UN/AU peacekeepers, the Coast Guard, members of the diplomatic community, national legislators, members of the Armed Forces of Liberia (AFL), the Nigerian Armed Forces all gave estimation to the general officer's firm military training and professional soldiering which, helped in no small measures to reshape the Armed Forces of Liberia.
According to then-President Sirleaf Johnson, "General Suraj Abdurrahman's exceptional dedication to service endeared him to Liberians, and we honored him with the Distinguished Service Order which is Liberia's highest military honor, and then, the national honor of Knight Commander in the Humane Order of African Redemption in 2009 and 2014 respectively. He was an exceedingly exceptional gentlemen officer whose contributions lifted Armed Forces of Liberia to professional greatness and emplace our military amongst UN peacekeepers".
---
For Advert Placement, Sponsorship, support, Article submission, suggestion, etc, Contact us: info@theabusites.com, +2349015751816 (WhatsApp)